General information about A+/EBC
A+ content – previously called Enhanced Brand Content (EBC) – offers sellers with assigned brands to optimize the product descriptions of their offers with their own image and text placements.
Ideally, attractive A+ content encourages higher conversion rates as well as page views and can have a corresponding positive impact on sales.
The content for A+ can be divided into two different content types:
extended product description: product features, purposes and also product ranges from the assortment can be shown here.
brand content: Focuses on the brand. Content such as values, history and product line can be indicated here.
Guidelines for creating A+/EBC content
Requirements for creating A+ content are a registered brand with the Amazon Brand Registry and an assigned role for the brand that allows acting on behalf of the brand on Amazon.
What you should know about creating A+ content:
You can pick 5 modules and fill them with content.
You can, but do not have to use all 5 modules.
Modules can be used multiple times.
The following modules are available: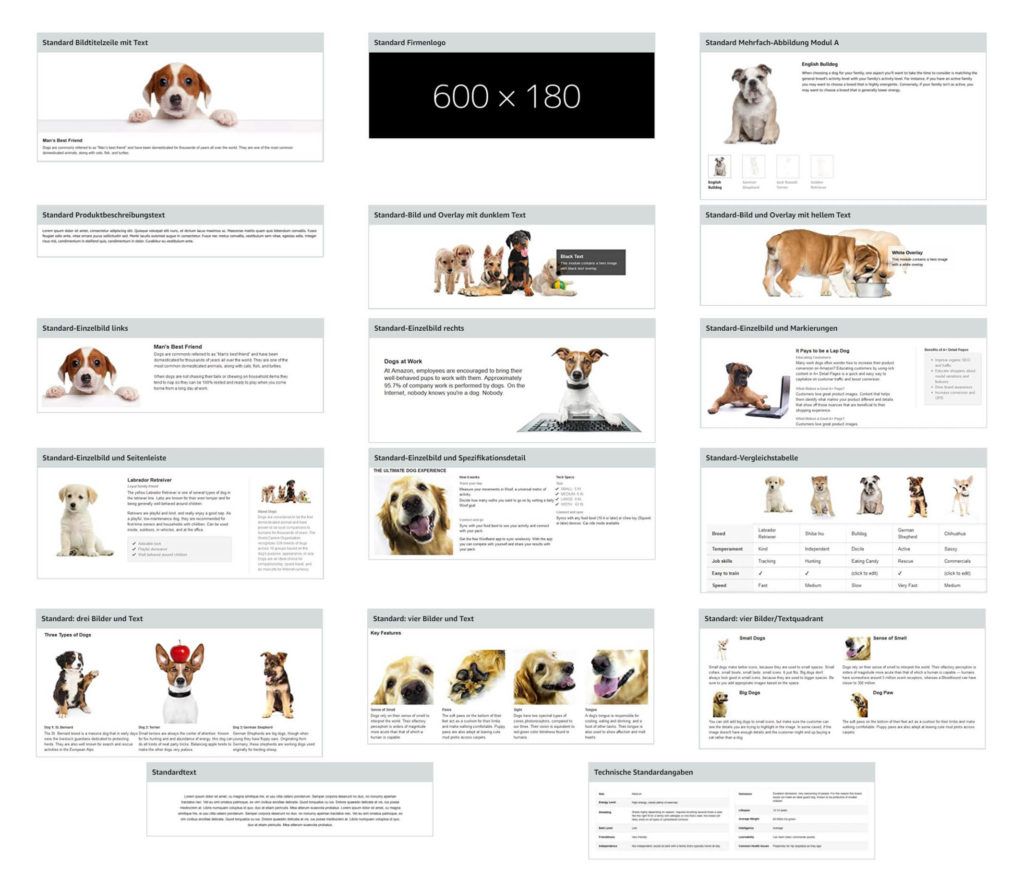 What to consider when designing images:
There is an option for 1 logo. Multiple logo use is usually rejected by Amazon.
No links to other websites or social media channels may be included.
Images need to be max. 2 MB and min. 72 dpi resolution. You can use .jpg, .bmp and .png in RGB color space.
What you should keep in mind for product related statements:
No false statements such as phrases like "recommended by", "certified", "tested", "approved", "proven", "tested", etc. without clear proof.
Environmental claims using the wording "environmentally friendly," "biodegradable," and "compostable" are not allowed in text or images. Statements such as "recyclable/ecological" must be substantiated with a note.
Evaluative statements such as "the No. 1" or "best-selling" or "low-priced" are not permitted.
For health product claims, health claim regulations must be followed.
Call to actions (e.g. "buy now") are not allowed.
How do I submit the data to SPACEGOATS?
Create a GDrive folder in 01_Listing/EBC with the SKU name. (If you have more than one SKU, select just one SKU).
Provide the images for the modules in this folder and name them as follows:  1_SKU 2_SKU 3.1_SKU (in case of multiple images in one module) 3.2_SKU 3.3_SKU 4_SKU 5_SKU
Copy the A+/EBC template into the folder and add the order and text for your modules.
Open a support ticket in the Galaxy using the topic "LISTING – Create EBC/A+ Content" and add the Gdrive links to the images and the completed A+/EBC template.
Now you can sit back, we'll create your A+ content and keep you updated!